Speaking Up
I've talked about this in entries
Got My Voice Back
and
Voiceless and Grateful
. I've had an interesting week with the theme of speaking, speaking up and silence.
There have been a number of things in my work world lately that have upset me both for my own sake and for the sake of my students, but because I often feel powerless, or I have to be respectful to other adults, I have said nothing. I began having violent nightmares in which a regular theme was about being unable to speak.
My feelings about all of this came to a head one day when someone at work did a few things that just really ticked me off and that I took quite personally. I vented to U. that night. I was so tense and angry! I told him that I used to always say what I thought, and that got me into trouble. Now I say nothing and that's not working either. I decided I wanted to start saying something, but the right thing.
Unfortunately, that night I blew it. For a number of reasons, this week has probably been the most stressful since I returned from maternity leave and I couldn't sleep. I laid awake at night, exhausted and still angry, and I wrote what I thought was a well-thought-out and reasonable email to the person who angered me.
I still think everything I said it there was true, but the long and short of it is, the person I wrote to didn't really understand it. She misunderstood several points and I was so anxious about what she thought about me writing to her at 3:45 AM that it really wasn't worth the agony I caused myself. If I was going to speak up, I should have done it in person and I should have stood up first for issues with my students, and later for myself. I should have prioritized to whom I was speaking and figured out how to do it.
So as an interesting afterword, I lost my voice this weekend. I'm not very ill, just a little. Enough to explain why I was so obsessive and anxious and angry that night. Illness and anxiety often go hand-in-hand for me. Either way, my voice is in shambles. A nice reminder to work on this speaking up trait.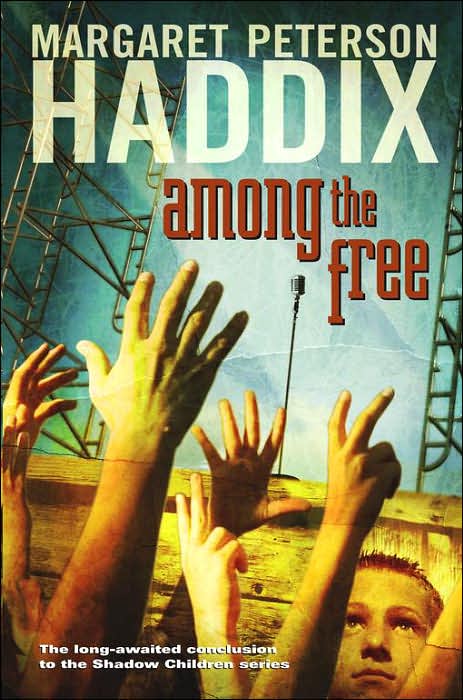 (Interestingly too I read
Among The Free
this Shabbos, the conclusion to a guilty book series pleasure of mine. Guilty because they're not terribly well-written, but riveting nonetheless. Again, all about speaking up for what's right.)
So the conclusion, for now, of this story, came just a few moments ago. ND and I were walking home from the library. There was a car pulled over to the side of the road as a family picked up their teenage kid (I presume). As the car drove off from the curb, a teenager in the backseat stuck his hand out the window and dropped a snack wrapper on the ground.
In the past I would have been nervous to draw attention to myself, and would have felt angry and wounded afterwards about how inconsiderate people can be. But I just stopped, looked at him the way I would one of my students and squawked in my hoarse excuse for a voice, "Hey, that's garbage."
He didn't make fun of me or ignore me. He looked guilty, his parents pulled over again, and he picked it up. I watched as he pulled away and I said, "There's a garbage can right there."
"I'll throw it away later," he called out the window.
And that was it. I don't have feel angry or wounded. And that garbage isn't on the ground. Better yet, I think he's sufficiently embarassed to not do it again any time soon, but not to ruin his life or even his day. That's all I ask.
Now if I can just figure out how to do this for bigger things...
Labels: activism, books, career, illness, meditation, teaching